We are Vyomraj Renewables, an Indian enterprise, where we feel it is good for the humankind to be in sync with the nature as naturally as possible and make use of resources provided by nature in various forms in as responsible a manner as possible while using these judicially for a comfortable balance between industrialisation and nature.
We promote the use of renewable energy technologies, provide services for system integration, energy management, undertake maintenance activities and are looking forward to work in the area of electric vehicles, infrastructure related to these, utilising agro waste, biomass based and other renewable, sustainable environment friendly products, with an idea to further the optimal use of resources.
Our Name and Logo:
The name 'Vyomraj Renewables' is a combination of the Sanskrit word 'Vyomraj' i.e., 'व्योमराज' in Devnagri script, meaning the king of the sky, that is the nearest star to our planet, 'The Sun' and a generic term 'Renewables'.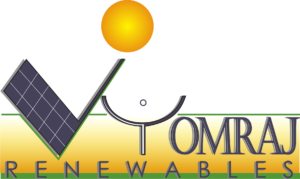 Our logo comprises of the stylised character 'V' which depicts solar photovoltaic module, a stylised character 'Y', which depicts the parabolic concentrator for heating, with the small circle at focus point being the end of tube. The letter 'Y' when seen with the tube also represents a human being raising hands in praise of perpetually renewable non exhaustive source of energy 'The Sun' God which is depicted by the yellow circle above the main name characters.
The light grey lines are the shadows, and the green outline indicates how we would like to see our surroundings to be lined with diverse flora and fauna, the yellow hew depicts the light from the Sun.
Since inception we have followed a tag line:

Which is more like a generalised appeal to provide better living conditions to the posterity than most of us were born with a life which is in sync with nature and industrialised or automated just enough to have a good work life balance.